SKU:
21642
Price:
R 175.00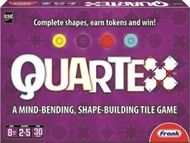 Product Description
A mind bending shape building tile game
Play one of your tiles so that the shapes on the corners
match up with other tiles already in play.
If your tile completes a shape, you earn a point token of
that colour.
Contents; 55 Double sided tiles
40 tokens
5 shields
1 draw bag
Instructions
back


Buy Now


Checkout
Rest assured your personal information is safe.
The Postage Fee for SA Post Office is for a total weight of 1kg and is the minimum fee chargable. A total amount will only be able to be given for postage once the full order has been received.
As we are unable to carry all the products available in stock delivery may take longer than expected.