SKU:
21642
Price:
R 175.00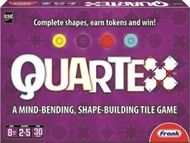 Product Description
A mind bending shape building tile game
Play one of your tiles so that the shapes on the corners
match up with other tiles already in play.
If your tile completes a shape, you earn a point token of
that colour.
Contents; 55 Double sided tiles
40 tokens
5 shields
1 draw bag
Instructions
back


Buy Now


Checkout
Rest assured your personal information is safe.
As we are unable to carry all the products available in stock delivery may take longer than expected.